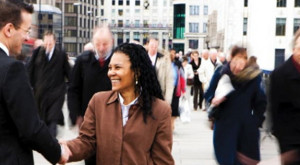 I write bold columns about agendas that oppose God's will each and every week through my Watchman on the Wall column. My passion is to see God's truth reign in the land, witness the captives—whatever they are in bondage to—set free, and see masses healed by the power of the Holy Spirit.
Although people who oppose my biblical worldview often launch especially distasteful attacks against me, I keep right on writing. Not because I am trying to anger those who oppose me but because of my calling to boldly speak the truth in love, to wake up the church and to see people break free from anything and everything that would hinder them from an intimate relationship with Jesus.
So when Samuel Rodriguez, a man of God I respect tremendously, called me yesterday afternoon to share his heart about Imago Dei, I was all ears. And when he asked me to join the movement as a prophetic voice to this generation who is committed to proclaiming God's truth to all people, I immediately signed on.
The foundation of Imago Dei is this statement: "I recognize that every human being, in and out of the womb, carries the image of God—without exception. Therefore, I will treat everyone with love and respect."
The worldwide Imago Dei campaign is a Holy Spirit-inspired response to the rise of incivility, bullying and disrespect for all mankind. We're all created in the image of God—all of us. Imago Dei leadership is moving to build a platform that advances a loving truth conversation and repudiates rhetorical bullying at the same time. Our mission is to change the world by sharing truth with love and grace.
Imago Dei states that the image of God exists in all human beings—black and white, rich and poor, straight and gay, conservative and liberal, victim and perpetrator, citizen and undocumented, believer and unbeliever. The challenge of the Imago Dei campaign is for individuals to recognize this in friend and foe, acquaintance and stranger, strong and weak, oppressor and liberator.
As Rodriguez put it to me yesterday, "We should be known not by what we oppose, but rather by what we propose." I believe if we all adopted this mindset, we would be more effective in disarming people who have fallen into the snares of the enemy so that, instead of battling us on the grounds of the culture wars, they could hear our heart. It's often a fine line to walk, but by the grace of God we can do it without compromising His Word and see transformation in our society.
The Hispanic Christian Leadership Conference, the largest Hispanic Christian organization representing over 40,000 U.S. churches, is leading the charge with Imago Dei and is attracting national leaders in the body of Christ, including Jim Daly, president of Focus on the Family; James Robison, president of LIFE Outreach International and co-host of LIFE Today; Mark L. Williams, presiding bishop and general overseer of Church of God International; Mat Staver, founder and chairman of Liberty University; and Mark Burnett and Roma Downey, award-winning television producers and producers of the upcoming feature film Son of God, which will be released nationwide on Feb. 28, 2014.
I stand with these men and women of God to urge everyone who agrees with this movement to join right now by visiting imagodeicampaign.org. Together, we can execute this new strategy to see true change in the lives of millions and turn our nation around in the process.
Jennifer LeClaire
From Charismanews.com
Ti è piaciuto l'articolo? Sostienici con un "Mi Piace" qui sotto nella nostra pagina Facebook