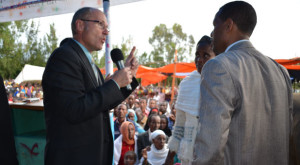 A thin cloud of smog covered the streets of Addis Ababa, Ethiopia. On almost all the roads, traffic had come to a virtual standstill, and each driver seemed to create his own traffic rules that actually worked.While we were stuck in traffic, a young Muslim beggar approached my window. I grabbed a shiny new coin and gave it to him. My heart was filled with deep compassion for this young man. Deeply touched, I looked at him and said, "Jesus loves you!" What happened next left me speechless. He took the coin, pelted it back at me through my window and ran away in anger. The name of Jesus had provoked something deep within him.
In Acts 4:18-20 it says, "Then they … commanded them not to speak or teach at all in the name of Jesus. But Peter and John replied, 'Which is right in God's eyes: to listen to you, or to him? You be the judges! As for us, we cannot help speaking about what we have seen and heard' " (NIV).
There will always be influences and people that want to silence us as Christians. Many simply do not want to hear that wonderful name: Jesus. But we have the glorious obligation to carry on despite rejections, threats and persecution. It is our honor to glorify Jesus's wonderful name in our generation. If we do this, He will stand to us no matter what. God proved it again during our crusade in Waliso, Ethiopia.
I stood on the platform that first crusade night and saw crowds of people before me who urgently needed a miracle from God. Suddenly, the Holy Spirit said to me, "Call someone with an injured knee up on the stage!" I was obedient, but when I saw an elderly man break down at foot of the stairs, unable to come to the platform without assistance, I realized that I was not just dealing with a painful knee, but with a man unable to climb stairs at all. It dawned on me that if the Lord did not intervene, this could turn out to be very humbling for me.
What causes men to take giant steps in faith? In Acts 3, Peter and John were going up to the temple to pray. There at the gate they came across a beggar who was lame from birth. Something grabbed Peter's heart. He could not pass this needy man. After commanding him to walk in the name of Jesus, he put his reputation on the line by taking the lame by his hand and pulling him up. At that very moment, the power of God flowed through him and the lame man was totally healed! What makes people take risks for God?
Peter had prepared himself in the prayer chamber (upper room). But he was also willing to take a risk in public. I am convinced that there are two requirements for Christians to witness God's powerful miracles. First, God shares His heart with you when you are alone in His presence. There you learn to recognize His wonderful voice. Then, when you are in the public eye, you will be willing to risk looking like a fool if necessary. The desire to please God will be so much greater than any desire to be accepted by men.
The man in Waliso who had broken down at the foot of the stairs stood so frail, looking at me with great expectation. Hundreds more were watching from the crowd. I laid my hands on him and prayed a simple prayer. As I opened my eyes, I noticed no improvement whatsoever. Then suddenly, the Holy Spirit spoke again; "Take him by his hand and walk!" Immediately, I took him by his hand and said, "Come on, let's walk." With the first step, the power of God came upon him and he was completely healed! He was jumping up and down and ran across the stage. We all looked on in amazement. The next day he ran up the stairs to the platform to give his testimony again. God is so willing to do so much more in our generation—if we will just let Him!
The Lord did great things in Waliso. With great joy, people gave testimonies that they were healed of epilepsy and diabetes. Blind eyes were able to see again! We saw a woman's tumor on her neck disappear before our very eyes. Demons fled with loud screams and the people were set free!
One man, who had been plagued with hemorrhoids for more than 20 years, told us that an infected part of his intestines just fell off his body. He was completely healed! Multitudes were baptized in the Holy Spirit. More than 20,000 people came to the five-day crusade, and thousands accepted Jesus Christ as their Savior. There was a mighty move of the Holy Spirit in Waliso, Ethiopia!
I would like to sincerely thank all those who have made this crusade possible!
May the Lord richly bless and reward you!
Chris Franz founded Cita (standing for "Christ is the answer") Ministries in 1998. He has since led nearly 70 crusades in Africa.
Fonte: Charismanews.com
Ti è piaciuto l'articolo? Sostienici con un "Mi Piace" qui sotto nella nostra pagina Facebook