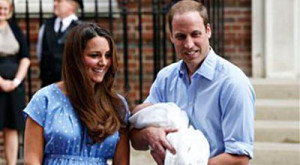 A Royal Bris! A Royal Bar Mitzvah! Hanukkah at Buckingham Palace!
From the moment Prince William and Kate Middleton got engaged, a rumor ran happily through the Jewish blogosphere (and menacingly on many anti-Semitic websites): the couple's progeny, the heir to the British throne, would be Jewish! And then, on July 22, a son was born—a Son of Israel!
His Royal Highness, Prince George Alexander Louis of Cambridge, is not Jewish.
But because Jewish law considers a child Jewish if the mother is Jewish, and because Kate's mother's maiden name is Goldsmith—a name not uncommon among British Jews—some wrongly conclude that the wee prince's matrilineal line is Jewish, and so is he must be too.
But before we dispel the rumor that the baby is an Israelite, here are four reasons why some people assume he is.
1. The Iranians said so. The Tehran-based Mehr News reported that not only is Kate Jewish, but she was secretly baptized in the Church of England so she could marry William, and then they faked their whole Christian wedding. The story goes on: "Nevertheless even being baptized by the bishop of the church cannot prevent Prince William's son, the next king and the senior governor of the Church of England, from being a Jew as Kate and William's child will inevitably remain a Jew."
2. In a YouTube video that is circulating widely, dead ringers for William and Kate, their families and the Archbishop of Canterbury dance down the wedding aisle to klezmer music.
3. In 1937, Jewish philanthropist Frank Charles Lindo donated the wing at St. Mary's Hospital, where George and William were born.
4. Former BBC reporter Michael Cole, who covered the royals beat, wrote a letter to the Times of London declaring that Kate is Jewish—again, drawing on the surnames of her forbears.
So what's Kate's religious history?
She and her Anglican family were never big on going to church. She was baptized as an Anglican in 1982, when she was five months old, and then, before her wedding two years ago to William, who will as king one day assume the title "Defender of the Faith," she was confirmed by the Bishop of London. Many explained the confirmation as a measure to make it absolutely, positively clear that Kate is in no way Catholic (still frowned upon for royal spouses).
But Jewish?
Genealogists have traced her lineage back generations, and all you can find is church wedding after baptism after church wedding.
Or, in the words of the widely-quoted Doreen Berger, the chairman of the Jewish Genealogy Society: "I've looked back as far as it's possible to look back and she doesn't have a Jewish link at all—it's just not true. I'm 100 percent sure."
Charismanews.com
Ti è piaciuto l'articolo? Sostienici con un "Mi Piace" qui sotto nella nostra pagina Facebook