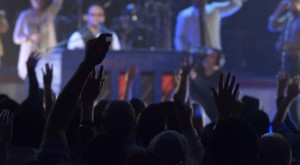 Modesty. It's a topic that I've addressed at length this year in articles such as "Why Do So Many 'Born-Again, Spirit-Filled' Women Show Off Cleavage in Church?" and "Pastor Cancels Wedding Over 'Sexy Dress,' Persecuted for Modest Mindset."
It seems the modesty debate continues to rage, as Erica Campbell, half of the gospel-hit duo Mary Mary, finds herself in the crosshairs for a stark white, skin-tight dress that shows off every curve of her shapely body. Campbell displays her fashion sense in a photo that is reportedly set to don the cover of her first solo album.
The Grammy-nominated Campbell is getting mixed reactions for her white-as-snow dress. According toEurweb, one preacher put her on blast on Facebook, writing, "THIS IS NOT OKAY. Yes, you are a beautiful, curvy woman … but NO MA'AM YOU ARE SINGING THE GOSPEL OF JESUS CHRIST. Saints … smh COME ON."
But not everyone is throwing stones at the gospel singer. Commenting on the photos posted atAmericanPreachers.com, Sherman Elms writes, "I think nothing is wrong with dress and I don't think it changes her heart for our Lord and Savior, so every leader or woman of God that says this dress is inappropriate, go to your closet and throw out every piece of clothing that fits to your body because if you [women] our built like she is what really can you put on that's going to over it up? If you don't know her personally and only see her on TV like I do, I think she's very great representation of a godly woman, don't be mad because you can't wear it."
Interesting perspectives. So who's right?
I'm not the fashion police, though my thoughts and views on modesty are well-outlined in the columns I mentioned above. Although I wouldn't wear Campbell's dress, it's hardly as provocative as what I see some everyday women wear to church or what other female Christian celebrities are wearing in public. Campbell's dress is not low cut—it's actually a long-sleeved turtleneck, and the length is well below her knees! Yes, it's tight all right—too tight for my taste—but it's not especially distasteful.
Compare Campbell's attire to Meagan Good's dress that made headlines this summer and you'd have to wonder why anyone is complaining about the Mary Mary singer. Good, an actress who played inThink Like a Man and married Seventh-day Adventist preacher DeVon Franklin, showed up at the 2013 BET Awards in June wearing more than a tight dress or showing a little cleavage. The front of her dress was cut so low that her breasts were not only visible—they were in your face. Highly inappropriate? Yes. But she didn't think so.
"Regardless of what anybody thinks," Good said in response to the criticism, "I have a personal relationship with God. We talk, and we speak, and I don't feel convicted about it, and so I have to do what's in my heart, and I can't allow people to manipulate my direction."
So, again, who's right? Where do we draw the line? Is it OK for a Christian woman to let her breasts hang out because she doesn't feel convicted by it? Is it OK to wear a dress that's so tight it looks painted on? If God gave it to you, should you flaunt it for His glory? Should we ignore how our wardrobe may offend or tempt others? Don't Christian mothers teach their daughters how to dress anymore? Or is this generation so rebellious that sex-charged clothing is merely another sign of the times?
Similarly, (too,) women should adorn themselves with proper conduct, with modesty and self-control, not with braided hairstyles and gold ornaments, or pearls, or expensive clothes, but rather, as befits women who profess reverence for God, with good deeds. 1 Timothy 2:9-10
Fonte: Charismanews.com
Ti è piaciuto l'articolo? Sostienici con un "Mi Piace" qui sotto nella nostra pagina Facebook