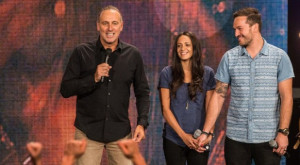 Hillsong Church founding pastor Brian Houston announced that the megachurch, which already has 11 congregations worldwide, will be starting a new church in Los Angeles.
"God is good and His timing is perfect!" Houston wrote Tuesday in a blog post explaining the new venture. "Los Angeles is a city of millions of people—people chasing broken dreams, people desperate for hope in a higher cause, people longing for meaningful relationships with one another. Hillsong Church is about all those things. It is about 'welcoming home' the lost, the broken, the hurting, and the lonely. It's about connecting families; building purpose and value into everyONE and it is about seeing the Good News of Jesus Christ proclaimed everywhere—including the bright lights of big cities like LA."
Houston said rumors started nearly a year ago that the Sydney, Australia-based church planned to head to Los Angeles. The rumors were false at the time, but around Easter, Houston's son and daughter-in-law—Ben and Lucille—"shared their sense of calling to Southern California" with Houston and his wife, Bobbie.
"It's hard to explain to you the emotions you feel when your son, along with his beautiful wife and my 3 beautiful granddaughters, express to you a desire (accompanied by a strong conviction) to move to another country," Houston said. "Bobbie and I are extremely joyful, extremely confident in God's hand on them and these plans, and yet obviously emotional at the changes that this will bring to our (already) global family."
Houston asked his son to share about how his plans to plant Hillsong LA unfolded.
"Coming into the beginning of this year I started feeling God stirring me towards this," Ben Houston explained. "Any time I was in prayer, or writing, or any other God-moments the same thought would keep going through my mind and burning inside of me. It got to the point where I spoke up to Lucille about the possibility of us moving to LA to plant a church. She is the most amazingly supportive and releasing wife and was shocked at first, but excited to see if God was in this. It didn't make a lot of sense in the natural—as we love Sydney, have an amazing role in the church, and our family is very set up here. But we couldn't shake that God was calling us out of our comfort zone to do something significant for Him."
Brian Houston assured readers he wanted to announce the plans to plant in LA before the Hillsong Conference happens there in October, promising, "We will not be using the conference platform, conference contacts or database to promote this new endeavor, or for ANY OTHER PURPOSE than Hillsong Conference."
He also shared that the expansion plans are not "indiscriminate."
He wrote, "They are intentional, prayed about and thought through. They are accompanied by many conversations and a heartfelt desire to see the decision and the outworkings of it, done with great care and integrity."
There are currently no concrete plans to share about the move to LA, regarding when it will launch or who might join the leadership. There is a new website for Hillsong Los Angeles, though, with a contact form for those interested in receiving more information about the church.
Hillsong, which also launched the Hillsong United worship band, has locations in London, New York City, Paris, Stockholm, Amsterdam and other cities across the world. The Sydney campus, affiliated with Australian Christian Churches (the Assemblies of God in Australia), hosts more than 30,000 worshippers every weekend.
Da Charismanews.com
Ti è piaciuto l'articolo? Sostienici con un "Mi Piace" qui sotto nella nostra pagina Facebook